Professor
Silvia Santini is an Associate Professor at the Faculty of Informatics of USI since September 2016. From July 2014 until August 2016, Silvia held an Associate Professor position at TU Dresden, where she led the Embedded Systems Lab. From October 2011 until July 2014 she was an Assistant Professor at the Department of Electrical Engineering and Information Technology of TU Darmstadt, Germany, where she led the Wireless Sensor Networks Lab.
Professor
Marc is a full professor in the Faculty of Informatics. His main interests are privacy and security, and the role usability play in this respect. Marc received a masters degree (Diplom) in computer science from the University of Bielefeld, Germany, in 1997, and his PhD (Dr. sc.) from the ETH Zurich, Switzerland, in 2005.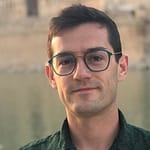 Martin is a postdoc researcher at the Faculty of Informatics, Università della Svizzera italiana (USI). He is particularly interested in applications in fields such as mobile and wearable computing, affective computing, and mobile healthcare.